Bra Fitting, Lingerie and Women's Swimwear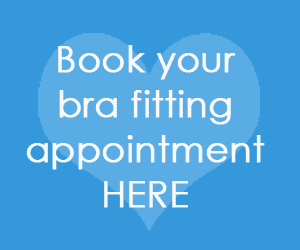 COVID-19 Update:

  We have made the decision to carry on with our safety precautions of just having one customer in the room at a time. Due to sanitizing of goods we are only open four days a week, Mondays, Tuesdays, Thursdays and Saturdays. 
If you need any items sent out to you and don't wish to come in then don't hesitate to contact us by phone and leave a message, email (contact us page, above), Facebook, Twitter, Instagram and we will get back to you.
When are continuing with our safety precautions. We will be
rotating the cubicles

, so no one will go in a cubicle that the previous customer vacated. On arrival we will be taking your temperature. Please note that we will be expecting you to

wear a mask

, that you keep on until you've vacated the premises. P

lease make sure you put it on fresh when vacating your car to come in to us. We do provide new re-usable masks if you don't have a mask. We will be in

PPE garments of masks and shields so if arriving with a teenager please explain to them what to expect.

. Please have a good idea of what it is you're needing right now, due to Covid-19 cleaning demands reducing the

1 hour appointment to 45minutes. Please arrive at least five minutes before the time of your appointment due to the temperature checks.
 You can now have a relative, parent/guardian or friend accompany you while having a fitting, but they will not be able to browse while you're having your fitting due to sanitizing rules.
Due to a reduced capacity because of sanitizing products on the days we are closed, please give us plenty of notice when cancelling an appointment. We can only see 8 ladies a day instead of 24. There are many ways of contacting us, even at weekends. Very often we have ladies on a waiting list to fill spaces.
We will be keeping customers names and phone numbers for Test and Trace for 21days as instructed by the Government. We also have the QR code on our door and inside the premises.
 All visits to the bra studio are by appointment only.
Availability on times and dates, are visible on the live appointments page, or just give us a ring. We are very busy and if you see red lines on the booking times it's because they are booked out. Please do not just turn up at the premises without an appointment due to Covid -19 strict rules.
Look out for our bright yellow signs on the Buckingham Industrial Estate to help you find us.  There are six in total and a banner by Aldi. Follow the signs and they will guide you up to the Whiteleaf Business Centre.
Questions asked by customers & answers:
Why did you move out of the High Street?
We had to vacate the High Street due to business rates killing our business. Sadly the lingerie trade lost many independant shops in 2018 and we are fighting many outside influences that have been impacting our businesses. We are now on an appointment only basis due to moving to the Whiteleaf Business Centre (it is not a retail centre). Plus Parking is FREE.
Is Sweet Dreams under new ownership?   
No, it is still the same  family business of 34 years.
Why do I need to book an hour appointment?
Please book an appointment on the hour as we need to fit in eight ladies a day.Due to Covid -19 we will only be fitting for a maximum of 45minutes because we will need time to clean the cubicle area and remove stock from the shop floor to give it a days rest and be treated. Please have a good idea of what it is you're looking for at the moment due to the reduced time because of Covid -19 cleaning demands. We make sure that each bra fits you correctly, offering different styles that you may not ever have tried on before. Because we stock so many makes of bras you aren't always the same size in every garment, so you can't think that you can get "sized" so that you can go elsewhere and purchase.
A Family Business established over 34years
 As a family business established 34 years, our aim has always been to ensure the customer receives a professional one to one bra fitting service and that she leaves us comfortable in the garment she has purchased. We started the business from home, doing party plan & we outgrew the house and three smaller shops until we  moved to our new premises in the Whiteleaf Business Centre on Buckingham Industrial Estate September 2018.  It's a perfect place to meet our customers by appointment. In order to stay in our new premises we have to be on an appointment basis as it isn't a retail unit. We have disabled access with disabled cubicles mother & baby cubicles and a lift to easily access our premises. We also have blue badge spaces right outside the building.
Plus parking is FREE, FREE, FREE!